The automotive market is driving growth in RF semiconductors for connected car applications including GPS navigation, integrated entertainment ecosystem and anti-collision radar. Today's systems are connected via Wi-Fi, Bluetooth® and cellular Internet with new developments in connected sensors and artificial intelligence technologies to support the vision of self-driving vehicles. Our UltraCMOS®-based solutions are optimized to meet automotive quality standards and RF performance requirements for infotainment systems, navigation and safety in the next generation of connected vehicles.
Best-in-class RF performance

High volume track record in top-tier automobiles

ISO/TS-16949 certification, AEC-Q100 Grade 2-compliant RF switches

Technical committee member on the Automotive Electronics Council (AEC)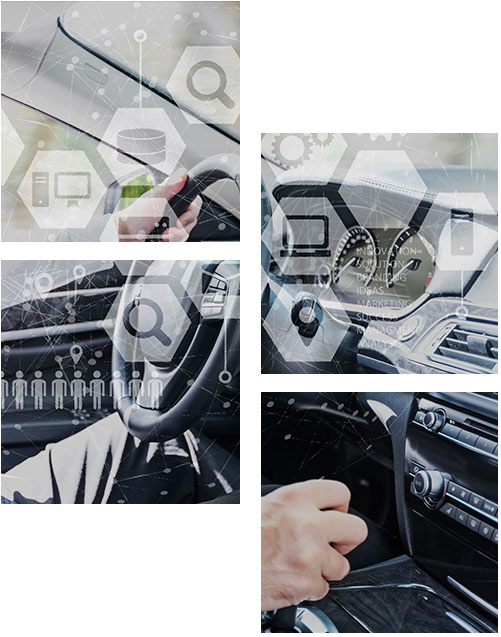 Automotive Electronics Council (AEC) is an organization that provides common part qualification and quality system standards for the automotive electronics industry. AEC-Q100 compliance enables manufacturers to confidently use pSemi's products without additional component-level qualification testing. Additionally, pSemi maintains ISO/TS-16949 certification which ensures quality in the design, development and production of automotive-related products.
The automotive market is driving growth in telematics, infotainment systems and advanced driver-assistance systems (ADAS). Telematics applications include GPS navigation, integrated hands-free calling and wireless safety communications. Infotainment applications integrate audio, visual and media entertainment systems into vehicles. ADAS applications include automatic cruise control and anti-collision radar. In the future, self-driving vehicles will use connected sensors together with artificial intelligence to navigate the vehicle's environment.