With increased data consumption and mobile device connectivity requirements, demand for network capacity and speed is growing. pSemi offers a wide selection of RF solutions supporting wireless communication infrastructure from picocell, small cell and carrier-grade Wi-Fi solutions to traditional macro base stations. In addition to high linearity, channel isolation and input power performance, our UltraCMOS® solutions deliver the low power consumption and smaller form factor integration required for the expansion of advanced wireless networks, line of site microwave solutions and emerging 5G techniques.
Best-in-class RF performance

Low power consumption

Small form factor integration in both FR1 and FR2 bands

Enabling beamforming, MIMO and other 5G techniques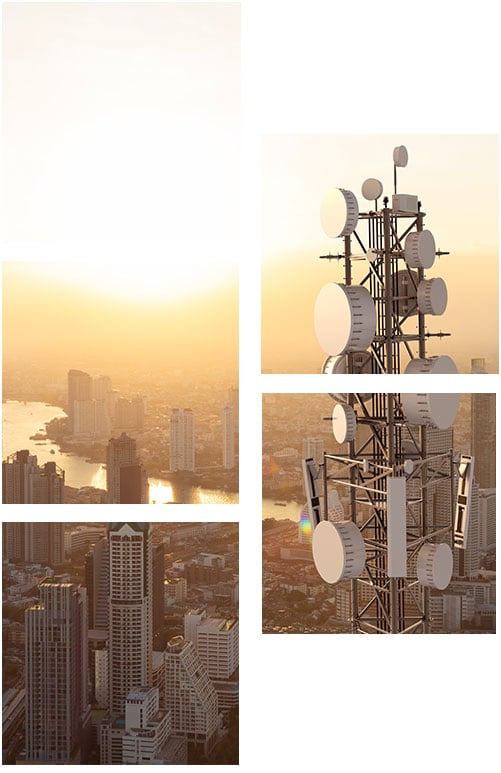 The combination of an increasing global subscriber base, expansion of advanced wireless networks and the proliferation of powerful devices offering high-speed wireless internet access has dramatically increased mobile data traffic.
This increase is straining the existing wireless network infrastructure. As a result, operators are expanding their network capacity by acquiring additional wireless spectrum and by aggressively deploying long term evolution (LTE), time division-LTE (TD-LTE) and 5G New Radio (5G-NR) networks.
Wireless backhaul is one of many options to connect the base station to the core network, and, as data consumption grows, so does the need for high-speed backhaul. Line of sight (LOS) microwave solutions are used extensively and offer high data rate wireless backhaul solutions.
With the rollout of small cells in urban environments where LOS is not always simple to achieve, non-line of sight (NLOS) solutions are being deployed, which offer lower data rates but can be used to increase the flexibility of the backhaul deployment.