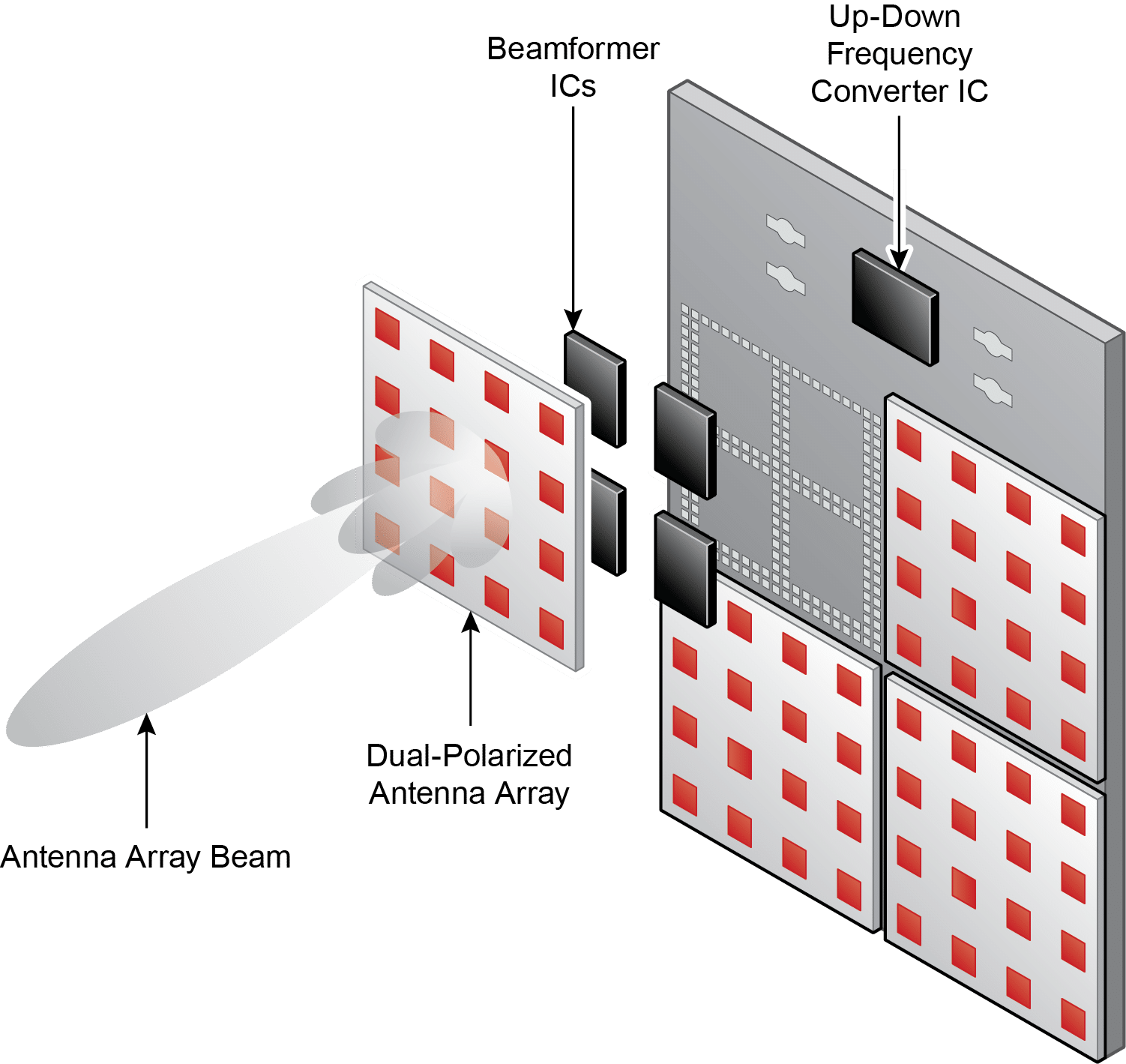 As the rapid growth of consumer data demand exceeds the capacity of 5G sub-6 GHz networks, operators will accelerate worldwide deployments of 5G mmWave networks. pSemi and Murata have co-designed a mmWave 5G antenna-integrated module (AiM) that incorporates pSemi's multi-channel, beamforming front-end RFICs and up/down frequency converter RFICs, offering high-efficiency transmitters and low-noise receivers for advanced mmWave products. Our innovation is critical to enabling 5G wireless communications for base stations, customer premises equipment and smartphone applications.
5G antenna-integrated module (AiM) co-designed with Murata

High-efficiency 26 GHz, 28 GHz and 39 GHz beamforming front ends supporting bands n257, n258, n261, and n260

Advanced, highly integrated package and antenna technology

Modular AiM approach for building scalable antenna arrays of any size
Best-in-class Performance
While a large antenna array can offer a wider coverage, mmWave networks may become limited by RF power and heat dissipation. To address these technical challenges, pSemi has partnered with our parent company, Murata, to co-design high-performance 26 GHz, 28 GHz and 39 GHz beamforming front ends with advanced package and antenna technology.
Highly Integrated and Scalable
Our highly integrated RFICs provide a complete IF-to-RF solution for designing scalable, dual-polarized antenna arrays. Beamforming antenna arrays can overcome deployment challenges from high signal attenuation due to environmental effects with spatial power combining that focuses the signal into narrow beams to accurately steer the signal to targeted users.