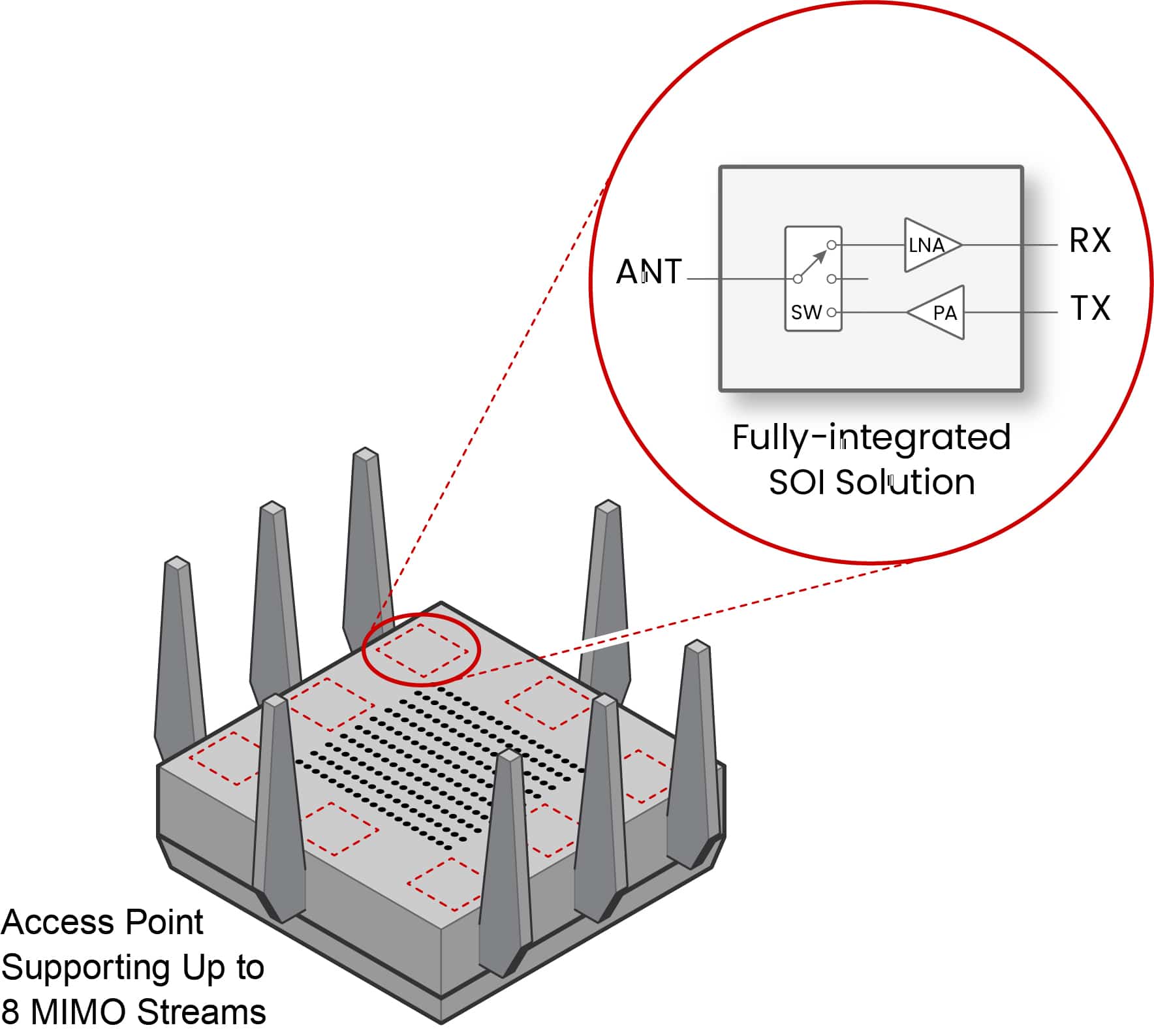 The evolution of Wi-Fi has taken considerable strides over the last 20 years driving pervasive global adoption. With the newly ratified 6 GHz Wi-Fi 6E standard, devices can now leverage up to 1.2 GHz of unencumbered spectrum with expanded MIMO counts, providing a truly immersive wireless experience. pSemi's Wi-Fi FEMs are designed using our advanced SOI process, unique analog and digital design techniques and intelligent control circuitry to offer temperature-compensated, high-linearity transmitters with low-noise receivers in an ultra-compact package footprint.
Smaller, lighter, thinner form factors in a single SOI die

More efficient components save power and boost run times

Temperature compensated with smart control circuitry

Ultra-compact package for highest MIMO count applications
Integrated SOI Solutions
Our 2.4 GHz, 5 GHz, 6 GHz, and 5–7 GHz Wi-Fi FEMs deliver exceptional performance, low power consumption and high reliability in a single SOI die with integrated low-noise amplifier (LNA), a power amplifier (PA) and transmit/receive RF switches. Additionally, the reduced size and more efficient components save power and boost run time in high-count MIMO applications supporting up to 16 × 16 configurations.
Best-in-Class Wi-Fi Performance
Through advanced analog and digital design techniques, our Wi-Fi FEMs deliver excellent long-packet error vector magnitude (EVM) performance with less than 0.1 dB of gain drop from -40°C to 85°C and current consumption without requiring digital pre-distortion for Wi-Fi 6 and Wi-Fi 6E networking, smartphone and portable electronic device applications.