As part of our commitment to corporate social responsibility, pSemi recently partnered with our parent company, Murata, to help alleviate hunger in local communities. Twenty-five employees from pSemi and Murata met at the Feeding San Diego warehouse in late July, where they spent two hours sorting fresh produce for distribution to people in need throughout the greater San Diego region.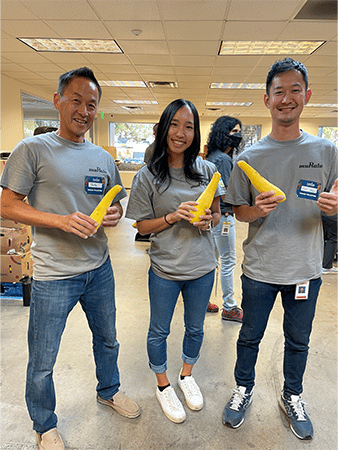 pSemi understands that food insecurity is a growing problem in San Diego and many other areas. Hunger affects people from all walks of life, including families, children, seniors, veterans and students. Lack of sufficient food and nutrition can affect social and behavioral responses, academic achievement, cognitive and physical development, and other aspects of everyday life.
Each year, by rescuing surplus food before it goes to waste, Feeding San Diego provides more than 40.3 million meals to people facing food insecurity. During our volunteer shift, pSemi packed more than 800 bags of yellow squash to help feed approximately 1200 people.
The Feeding San Diego event was organized as part of pSemi's Wellness Program initiatives. Employees are encouraged to participate in company-sponsored wellness activities to give back to the local community. Past wellness events include a beach clean-up and helping provide holiday gifts to families through the Salvation Army's Angel Tree program.