SP4T Switch Enables Wideband and High-frequency Applications
SAN DIEGO – February 22, 2023 – pSemi® Corporation, a Murata company focused on semiconductor integration, announces the production readiness of a new SP4T switch targeted for wideband and high-frequency applications up to 52 GHz.
Offered in a compact 3 × 3 LGA package, the PE42546 is designed to enhance 5G millimeter wave (mmWave) systems and short-range connectivity with best-in-class linearity, switching time and power handling combined with superior manufacturability and ease-of-use. This low-loss SP4T is part of a family of mmWave SPDT and SP4T switches designed to simplify layout and assembly while improving overall system efficiency in designs for wireless infrastructure, point-to-point communication, test and measurement and satellite communication applications.
"With the market release of this packaged version of our low-insertion loss broadband RF switch, we continue to demonstrate our capability to advance the mmWave cutting edge. This product will accelerate mmWave usage in multiple applications and significantly improve manufacturability and ease-of-use for our customers."

Vikas Choudhary

VP of sales and marketing
The PE42546 UltraCMOS® SP4T switch delivers RF performance, reliability and size to meet challenging mmWave system designs from 9 kHz to 52 GHz and is available in a 20-lead
3 × 3 mm LGA package.
Superior wideband coverage — Best-in-class performance with proprietary design technique delivers RF performance up to 52 GHz.
Low latency — Extremely fast switching for rapid transmit and receive data patterns in advanced communication schemes.
Industry-leading power handling and linearity — Highest input P1dB and IP3 enable high data rate transmission capability in wireless communication.
As demand for virtual reality, augmented reality, 5G mmWave and connectivity applications increases, so does the demand for beamforming using phased arrays. The PE42546 SP4T offers a wider range of design options and flexibility combined with manufacturability for phased arrays using fixed beamformers.
Beamforming architecture falls into two major categories:
Adaptive beamformers
Fixed or switched beamformers
Adaptive beamformers generally handle multiple users and require  independently controlled phase shifters and attenuators such as pSemi's beamforming front ends. Devising the control circuit for handling multiple users can add to the expense and complexity of a design. In contrast, fixed or switched beamformers employ high-performing RF switches like the PE42546 to establish point-to-point communication with limited users. The latter architecture, illustrated below, offers several advantages over the former:
Simplified architecture and overall cost
Reduced design and system complexity
Faster beam switching
High-power transmission support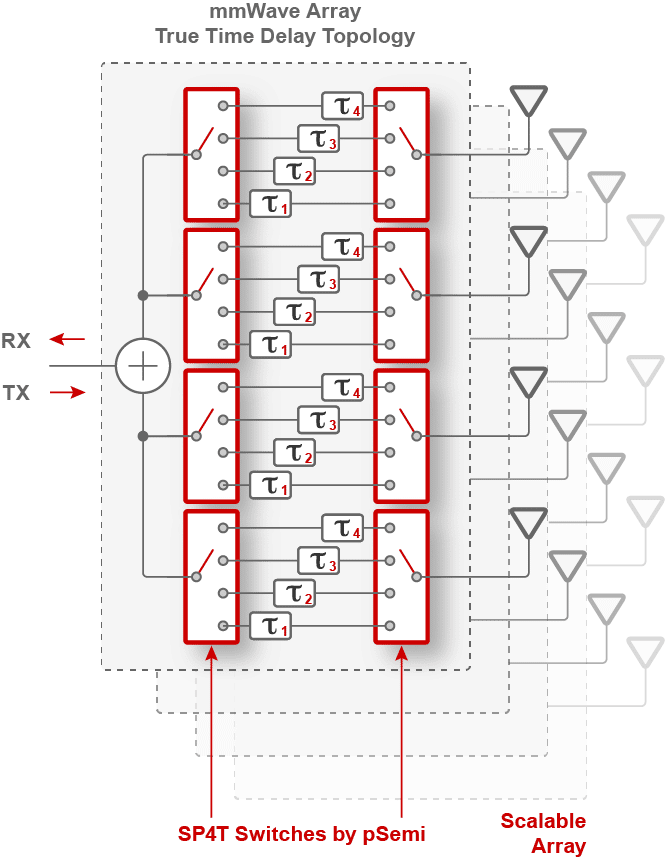 New pSemi SP4T switch streamlines and simplifies fixed-beam beamforming architectures.
The PE42546's superior RF performance, high linearity, low insertion loss, and compact footprint makes it a perfect candidate for applications like fixed or switched beamformers in 5G mmWave applications.
To read about a test and measurement use case, visit our newsroom.
More Information
For more information on these broadband switches, contact the pSemi team.
About pSemi
pSemi Corporation is a Murata company driving semiconductor integration. pSemi builds on Peregrine Semiconductor's 30-year legacy of technology advancements and strong IP portfolio but with a new mission: to enhance Murata's world-class capabilities with high-performance RF, analog and mixed-signal solutions. With a strong foundation in RF integration, pSemi's product portfolio now spans power management, connected sensors, antenna tuning and RF frontends. These intelligent and efficient semiconductors enable advanced modules for smartphones, base stations, personal computers, electric vehicles, data centers, IoT devices and healthcare. From headquarters in San Diego and offices around the world, pSemi's team explores new ways to make electronics for the connected world smaller, thinner, faster and better. To view pSemi's semiconductor advancements or to join the pSemi team, visit www.psemi.com.
###
The Peregrine Semiconductor name, Peregrine Semiconductor logo and UltraCMOS are registered trademarks and the pSemi name, pSemi logo, HaRP and DuNE are trademarks of pSemi Corporation in the U.S. and other countries. All other trademarks are the property of their respective companies. The pSemi website is copyrighted by pSemi Corporation. All rights reserved.